Adder X-DV/T AdderLink X Series X Dual Video Transmitter ( 2 x Output TRANSMITTER ONLY )
Adder X-DV/T AdderLink X Series X Dual Video Transmitter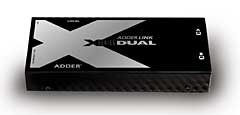 Description:
** ADDER HAVE NOW DISCONTINUED THIS OLDER PRODUCT AS IT HAS BEEN REPLACED BY THE MORE COST EFFECTIVE PRODUCT THE DUAL ACCESS CAM. See part No. CATX-USB-DA or CATX-USBA-DA AdderLink X-DVT. X Series X Dual Video - KVM extension Transmitter. ( 2 x UTP Output KVM TRANSMITTER ONLY ) required KVM receivers see compatible parts. Convenient and remote control of a PC or KVM switch over 200m of UTP cable, the X Series X Dual Video is designed with Cat6 in mind. The X Dual is a sophisticated extender ideal for dual display extension applications. Featuring auto bandwidth adjustment and skew reporting for today's challenging Cat6 structured cable systems, the X Series X Dual is designed to control a PC or KVM switch remotely over UTP cable. The Dual transmits two video signals together with keyboard and mouse to work as either an extender or a video splitter, and is future proof due to flash upgradeability via the keyboard port. For use with the with 2 x AdderLink X-series receivers not supplied Part No. X-KVM/R-IEC-UK
Features:
High video quality at a resolution of up to 1600 x 1280
Dual video transmission
Password security prevents unauthorized use
Flash upgradeable via the keyboard port
Supports automatic and manual video compensation
2 year warranty and lifetime support
Adder X-DV/T X Series X Dual Video Transmitter setup with X Series reciever units not included.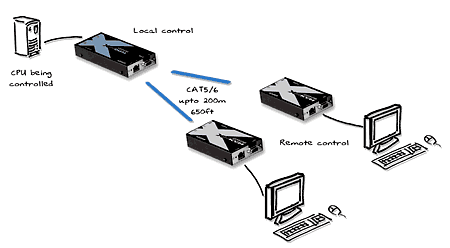 Specification:
AdderLink X Series X Dual Video - KVM extension Transmitter.

Input Ports:

2 x HD15 Socket Video Ports
1 x 6MCC Socket with Supplied Y-Splitter Adaptor to provide the 6MCC PS/2 Mouse and 6MCC Keyboard Input Ports

Output Ports
2 x UTP Sockets

Allows 2 x Remote users of computer.
when used with:
2 x Adder Video receivers not supplied

See : Part No. X-KVM/R-IEC-UK
or compatible products