Adder AVP4-UK AdderView Prism 4-Port Reverse KVM/DA ( KVM Sharer / KVM Splitter )
Adder AVP4-UK AdderView Prism n-Port Reverse KVM/DA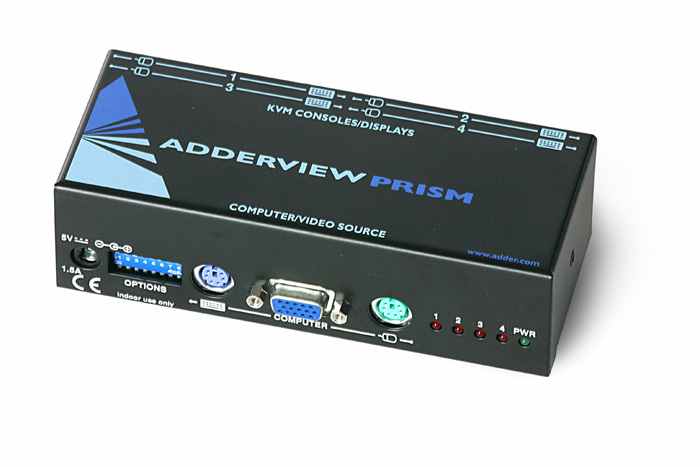 Description:
Adder AVP4-UK AdderView Prism n-Port Reverse KVM/DA A 'reverse KVM switch' that enables up to Four consoles to access a single computer or KVM switch. Ideal for video splitting, resource sharing and KVM matrix applications. The AdderView Prism is a compact 'reverse KVM switch' that enables you to connect multiple KVM (Keyboard, Video monitor and Mouse) consoles to a single computer or KVM Switch. Connecting the Prism to a computer expands the number of KVM console connections, allowing you to control your computer from up to four different locations. The Prism is also ideal for connecting to the front end of KVM switches to increase the number of consoles that can share access to the switch. The AdderView Prism is available with either two or four ports. Both models use standard connectors throughout so you can connect your equipment easily using common inexpensive cabling. For maximum convenience, the Prism may be powered using the supplied power supply or, for many applications, may draw its power from the attached computer via the keyboard interface. Coupled together with the small and compact size, the interface powering feature ensures a neat installation. The AdderView Prism supports a high 280MHz video bandwidth and incorporates a user-selectable video boost function which provides video amplification to compensate for losses introduced by long video cables. High video resolutions up to 1600 x 1280 are supported and super high resolutions exceeding 1900 x 1440 may be achieved when short cables are used. To ensure maximum future compatibility, the Prism's firmware is flash upgradeable via the keyboard port. The Prism automatically manages access to the computer or KVM switch on a timeout basis by only allowing one KVM console to be 'active' at any one time. The video signal is distributed to all the consoles and the 'inactive' state is indicated to the user by the rhythmic flashing of the keyboard's num, caps and scroll lights. Once the Prism has detected there has been no keyboard or mouse activity from the 'active' console for the timeout period, access to the computer is made available to the other consoles. A 19 inch rack mount bracket is available to mount sixteen 2 port or eight 4 port Prisms in 4 U of rack space.
Features:
·Fully automatic sharing / switching on a timeout basis
·A single video feed can be displayed on four monitors simultaneously
·Supports high resolution 1900 x 1440 video using 280MHz amplifiers
·Ideal for console sharing, video splitting and resource sharing applications
·Flash upgradeability ensures future compatibility


USEABLE FOR MANY PURPOSES SUCH AS:

CONSOLE EXPANSION
The AdderView Prism is ideal for expanding the number of consoles that share access to your computer or KVM switch.

VIDEO SPLITTING
The high bandwidth capability, video boost facility and the ability to support long video cable runs (up to 30 metres) make the Prism a good choice for video splitting and local video broadcast applications

RESOURCE SHARING
The AdderView Prism provides a really neat solution for resource sharing requirements. In many information sharing applications it is not necessary for users to have exclusive access to services. In these situations, computer sharing can provide significant cost savings on multiple seat software licenses. Typical applications include sharing information feeds in banking and trading room environments.


SQUARE MATRIX' KVM SWITCHING APPLICATIONS
The AdderView Prism has been designed to closely integrate with the popular range of AdderView Matrix & SmartView XPRO products to produce 'square matrix' and other advanced KVM switch configurations. 'Square Matrix' systems have about the same number of console connections as user connections. Using a combination of Adder multi-user KVM switch products and the AdderView Prism, up to a 16 user to 16 computer matrix with simultaneous access may be constructed that has a high degree of in-built redundancy.



Adder AVP4-UK AdderView Prism n-Port Reverse KVM/DA Rear View




Specification:
Share mode
Automatic, with 2 second timeout. Inactive consoles indicated by flashing keyboard indicators.

Connectors
15-way HD sockets for all video. 6-way min-DIN sockets for all keyboard and mouse connections (colour coded). 2.5mm power jack.

Physical
2-port: 145mm (w), 26mm (h), 75mm (d). 4-port: 145mm (w), 44mm (h), 75mm (d).

Indicators
Activity indicators (per port), power indicator.

Keyboard support
Modes 1,2 and 3. PS/2 and AT compatible. Supports extra keys on "Internet" style keyboards transparently.

Option switches
Provided to select power options, video boost and flash upgrade modes
Mouse support
2 button, 3 button, wheel and IntelliMouse style mice with PS/2 connections.

Video
280MHz analogue video at resolutions up to 1900 x 1440. DDC connected to monitor port 1.

Cable lengths
30m max. cable run (input + output) for video only applications when used with power supply. 30m max. cable run for KVM applications with power supply, 10m cables from Prism to console supported – typically also possible to extend to 20m for many applications. For interface powered applications, 2m cables supported on input and output and 5m cables supported for video matrix applications.

Hardware compatibility
IBM compatible PCs, Alpha, SGI and RS/6000. Adder KVM switch products. Special integration features provided for operation with AdderView Matrix and SmartView XPRO products.

Software compatibility
Compatible with all known software including Windows 3, 95, 98, NT, 2000, XP, ME etc., DOS, NetWare, Linux and Unix.

Approvals
CE marked.

Flash upgradeability
Via the keyboard port from a computer.

Power
Power supply rated at 5V DC, 2A. Product is fuse protected with auto-resettable fuse.