Security
At KVM Choice we take online security very seriously.
No confidential card information is kept on our website, at the point of payment you are directed to SagePay with high security protection. SagePay.co.uk " are my card details secure? " PADLOCK.

When you first check out your shopping basket from KVM Choice, (and enter your payment and delivery details) the Secure Socket Layer technology, issued by Thawte. VeriSign, will guarantee that all your personal information, including name, address, and credit card details is encrypted. This ensures that your credit card details remain scrambled whenever they are on the web.
You can recognise a secure or 'SSL' page by a padlock symbol usually found in the bottom right side of browser window and the beginning of the web address starting with https:// rather than http://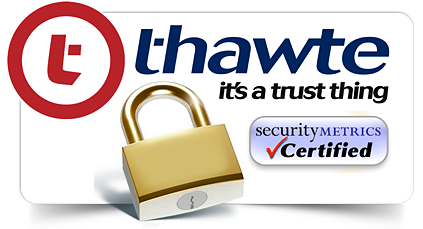 In addition to this our website is tested daily by McAfee Secure - This means tested and certified daily to pass the "McAfee Secure" Security Scan. To help address concerns about possible hacker access to your confidential data, and the safety of visiting this site, the "live" McAfee Secure mark appears only when this site passes the daily McAfee Secure tests.
In-house Terminal Security
Your credit card details are not kept by KVM Choice after the transaction has been completed.
In addition to the above, our in-house Card processing procedures for the use of direct card transactions our terminals and staff handling are PCI DSS Merchant Compliant. Assessed and validated by SecurityMETRICS
Systems and network protection ( No confidential card details are kept after processing. )

Network Security and Protection

General Data Protection Regulation