MultiViewers:
Showing 1 to 3 , from a total of 3
Rose QV-4KVMHDMI Rose QuadraVista HDMI , Quad Video KVM Multiviewer Switch,1x4 KVM switch with Quad Screen HDMI, PIP and Full screen modes shown on 1 screen ( Quadra Vista HDMI Multiviewer )

The QuadraVista HDMI is a flexible and powerful multi-viewer product with the capability to control and monitor up to four HDMI video sources on a single display. Each of the...
Rose QV-4KVMDVI-2 QuadraVista, Quad Video KVM Multiviewer Switch, 1 KVM User with 1 screen showing 4 video's from 4 CPUs DVI/VGA ( Quadra Vista - QuadraView) DVI/VGA - USB 2.0 ( DVI Multiviewer )

QuadraVista 2 , QuadraView™ ( QuadraVista 2)
Quad Video KVM Switch DVI/VGA 4Port
...
Rose QV-4KVMDVI-QF QuadraVista QF 1X4 KVM Multiviewer switch 4 DVI/HDMI/VGA with Quad, Full PIP and WIN display modes Quandra Vista ( DVI Multiviewer )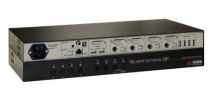 The QuadraVista-QF is a Multifunction Digital KVM
Switch and Video Controller that can process a mix of
digital and analog video on input and output ports.
This allows...
MultiViewers: Showing 1 to 3 , from a total of 3