Free! UK Delivery for all orders over £50. Shop here

Sales tel: 0845 899 5010
Raritan: DOMINION® SX II
---

Next Generation Serial Console Server

---

The Dominion SX II is Raritan's next-generation serial console server / terminal server. It provides serial-over-IP access and control of devices -- anytime, anywhere. It's the most powerful, secure, reliable, easy-to-use console server on the market.
Enjoy unrivaled control over servers, networking devices, security appliances, rack PDUs, virtual hosts, and wireless / telecom equipment! The SX II supports the widest variety of serial-over-IP connections via SSH/Telnet Client, web-browser, CommandCenter, telephony modem, cellular modem, and at-the-rack access. Raritan offers thirteen different 1U appliances to connect to 4, 8, 16, 32 or 48 serial devices.
All models have dual power supplies (AC or DC) and dual Gigabit Ethernet LAN ports. The SX II builds on over ten years and 500 million hours of operation of the original SX. Besides the high performance serial processing from a more powerful hardware platform, the SX II includes the exciting new features described below.
Features

Java-Free Serial-Over-IP Access
Complete CLI access and management via SSH, Telnet and Java-free web-browser, with convenient direct port access methods. Two script-based automatic configuration methods (TFTP server and USB stick) are available for fast installation and configuration changes. Scales to thousands of devices with Raritan's CommandCenter.
Powerful New Hardware

The Dominion SX II features a 1 GHz processor with an 8-fold increase in memory, dual power supplies (AC & DC), dual gigabit LAN ports, auto-sensing DTE/DCE ports, 4 USB ports, laptop/KVM access, port status LEDs, and telephone modem option for all models!
Military-Grade Security

Achieve military-grade security levels, including: strong AES and certified FIPS 140-2 encryption module, LDAP/RADIUS/Active Directory authentication, and dual stack IPv4 and IPv6 networking. Two factor authentication available with RADIUS and RSA SecurID tokens.
Broad Serial Device Support

Enjoy comprehensive serial device access to a wide range of equipment. Automatic DTE/DCE detection eliminates the need for rollover cables. Support for operating speeds of 1,200 to 230,400 bps with flexible, per-port serial options.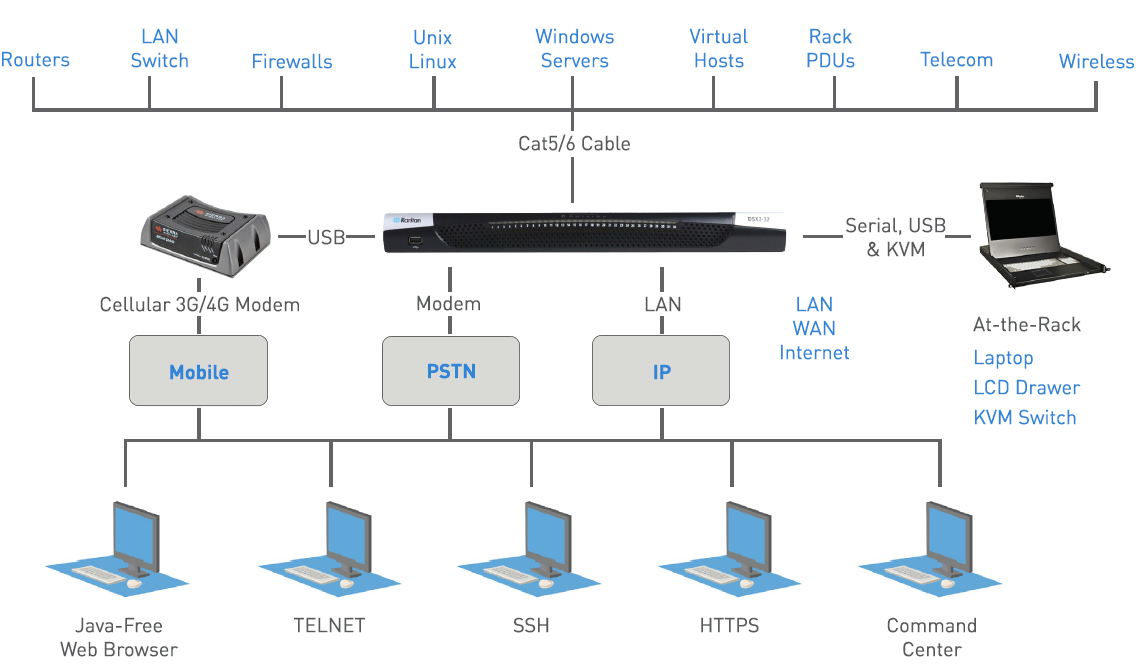 Dominion KVM and Serial appliances, including SX II, KX III, KSX II and KX2-101-V2, integrate with Raritan's CommandCenter Secure Gateway. With the CommandCenter management system, administrators can manage multiple Raritan devices. Users can access hundreds or thousands of computer and networking devices from a single, integrated system. If you own five or more Raritan appliances, you should consider CommandCenter for centralized management and access.
Additional Features
No Rollover Cables SX II allows you to direct connect to Cisco and other compatible devices without rollover cables!
3G/4G Modem Access The SX II offers an optional internal telephone modem and can connect to an external cellular for emergency access
Automatic Configuration Two automatic configuration methods (TFTP server and USB stick) are available for fast installation and changes.
Complete CLI Management the SX II offers complete CLI access and management via SSH, Telnet and web-browser, with direct port access.
Best At-the-Rack Access Multiple types of at-the-rack access including: (1) Serial console, (2) Laptop/USB or (3) KVM Console.
FIPS 140-2 Encryption Certified FIPS 140-2 encryption module to meet the most stringent government or regulatory security frameworks.
Direct Port Access Convenient direct port access to individual SX connected devices is available via SSH, Telnet, and HTTP.
Port / Session Logging The SX II supports logging of both user input and serial device output to a Network File System (NFS) server.
Port Keywords (Triggers) SX II users can create port keywords, which triggers a message, if received from a serial device.
Strong AES encryption, strong passwords and optional security banner.