Free! UK Delivery for all orders over £85. Shop here

Sales tel: 0345 899 5010
KVM Choice: Serial Console Servers
Serial Console Servers & Console Switches

SECURE REMOTE MANAGEMENT OF YOUR CRITICAL NETWORK INFRASTRUCTURE SYSTEMS
Serial Console Servers/ Switches (also known as serial terminal servers) provide multiple connection via IP or direct from a local rack access port to a number of serial ports, which are then connected to the serial ports of the devices non-networked serial-based peripherals with RS232, RS422, or RS485 such as servers, routers or switches making them accessable over the LAN, Ethernet or WAN
The console ports of the connected devices can then be accessed by connecting to the console server over a single direct serial link, IP Network port over terminal emulator software such as Telnet or SSH, or in some cases even a modem for backup access. They are commonly used for connection to the console ports of unix servers.
This then allows a systems administrator to connect to the servers over the network. This also allows access for rebooting the system and for hardware debugging, and often where an operating system hangs or will not boot correctly.
Other uses include use as network access servers to act as a secure gateway to access to a protected resource or device.
For conveniance hybrid units ( combined dual purpose ) have been created. These devices allow not only the console server access but control or access or power or KVM ports.
Access to these devices can also be taken to a higher level of security management by the use of Central Secure Gateways which create a central point of login access to any console server in any location.This mot only makes access qicker and easier but allow a log of user access to comply with modern audit trail requirements.
Please note the term terminal server is also used for centralized computing systems such as central server providing a Window or Linux desktop to multiple user stations, the common term for these users now known as thin clients. These are not the same as the products we are providing here.
Combined KVM & Serial (Hybrid solutions)

Remote management appliance that provides secure access to IT assets both KVM and serial interface

- Raritan DKX3 with Serial module

- Raritan DSAM add Serial to KVM switch

( Both above units required together )

- Adder 5016IP-SCON-K16 KVM with serial adaptors

These adaptors can be added to KVM Switches of the same brand:

- Raritan KVM - Serial DSAM multiple

- Raritan KVM - Serial CIM single

- Adder KVM - Serial CAM single

Older System support

- Older systems supports and spares for basic functions still available

Secured with SSH V2

Supporting and spare parts for legacy systems

- Legacy support Products/ Spare Parts

- Enterprise console server with IP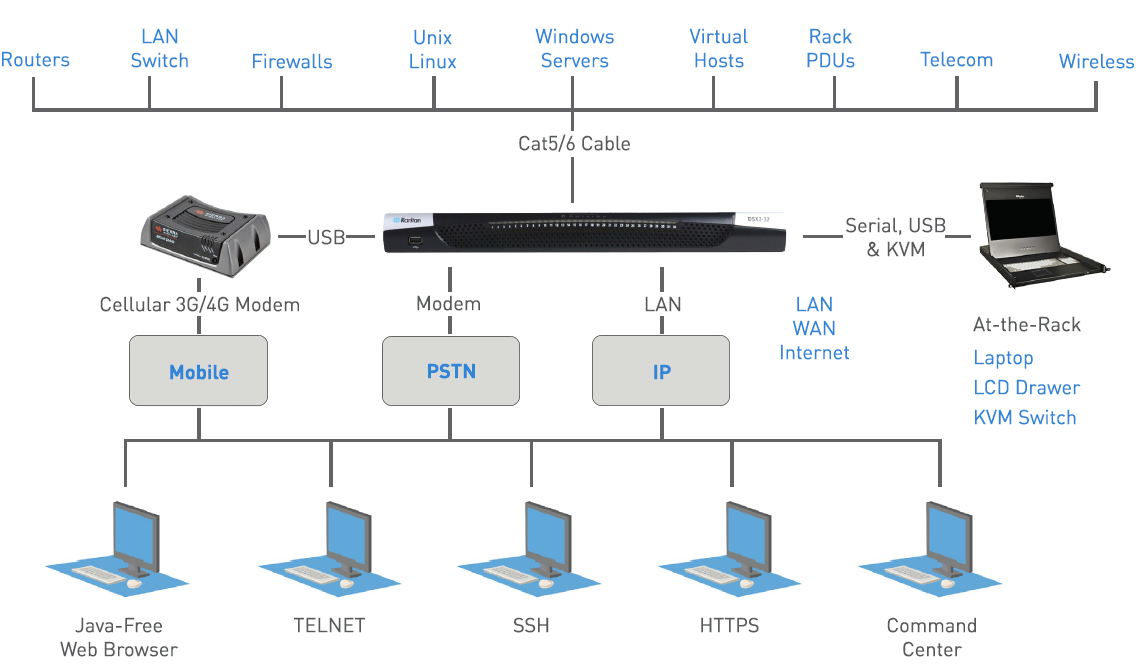 Also checkout the Next Generation Serial Console Server: Raritan's DOMINION® SX II
For more Information, Quotes, assistance or advice call us on: 0345 899 5010