Adder: shop by manufacturer

Adder Featured Categories

Adder Technology produce products which empower IT and AV Professionals to manage KVM and enable distributed remote control anywhere accross your systems. Adder video and extension technologies deliver reliable high definition video and CD Quality audio for many applications including digital signage. Please note Adder products are supplied with Adders Standard 2 Year return to base manufacturer warranty only. If your require a higher level of support on enterprise level products please contact us.
We have very long standing history and loyal supplier arrangement with Adder Technology as they offer a paricularly high standard of both product and technical support, and we are pleased to be an Adder Premier Partner Supplier meaning we can offer you the highest levels of support, assistance and after sales services. KVM Choice are fully trained specialists on the Adder range and can offer expert advice and system planning / configuration.
Additional support and services : Warranty Extension, Adder 24/7 Elite Technical Assist, Onsite Technical Services

'NEW PRODUCTS'
ADDERLink, High Performance Devices, IP KVM, Secure KVM
INFINITY: The world's first dual-head, high performance 4K IP KVM fiber extender & KVM switch system, Transmitter & Receiver.

INFINITY: A dual-head, USB 2.0 IP KVM extender delivering real-time unlimited access to physical and virtual machines.

The 101T is a High Performance 0U IP KVM dongle for extension or matrix.

Models: DVI | HDMI | DisplayPort

Powerful and flexible high performance Digital HDMI IP KVM & Extender, offering 1920 x 1200 resolution at 30 FPS.

KVM desktop designed for superior usability, with real-time display, and the highest level of security, NIAP PP 4.0.

High performance KVM, Supporting Single or dual-head HD60 video, Point-to-point protocol, ultra-low latency.

Control suite which transforms ALIF extenders into a digital matrix solution.

Rack mountable PDU / PSU, with a 12V30W redundant power supply.

8 port | 16 port | Dual Power

High Quality Digital IP Control Room and IP Extension Systems
ADDER KVM Switches, Inintiy, Matrix, & Extenders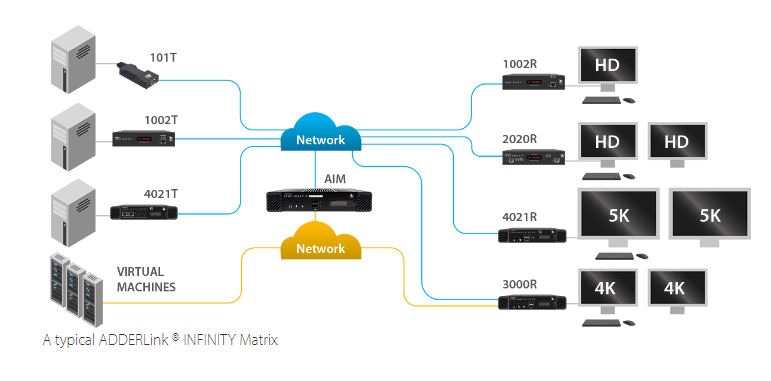 Adder Infinity System - Digital/Network IP KVM, Audio & Video Control

AIM Central Mangament control - Adderlink Infinity Manager - digital matrix systems start here.

Transmitter and Receiver sets:

ALIF 1002 - Single DVI Single Link

ALIF 2020 - Dual Video Single Link only

ALIF 2002 - Dual DVI Single Link or Single DVI Dual link

ALIF 2112 - Remote WAN access with Real VNC

ALIF 3000R - Unlimited virtual machine (VM) access

ALIF 4000 - 4K Dual Video DisplayPort, Over Single Fibre

AIM Expanding Upgrade - Expand the system Licencing

RED PSU PRO - Redundant multiple unit power supply

AdderView AV Pro DVI Switches - DVI & USB Control Switching

Single Screen Display Port & USB

2K / 4K + Resolutions possible

Adder DDX

CatX DVI Video KVM Matrix

Adder XD Range

High Res Extenders

XD150 DVI Single Video 150Mtr

XD522 HDMI Dual Video / 4K Resolutions 3840x2160 VESA Timing

XD150 Fibre Extender DVI Video

XDIP IP Network Extenders

Data Centre & Multi computer control - KVM Server control
Kvm Console, Video Matrix, VGA Switches

Adder Further Specialist Product Ranges
Secure Kvm, Display Port, VGA Pro, Pro AV, Remote IP...
Adder Professional Services: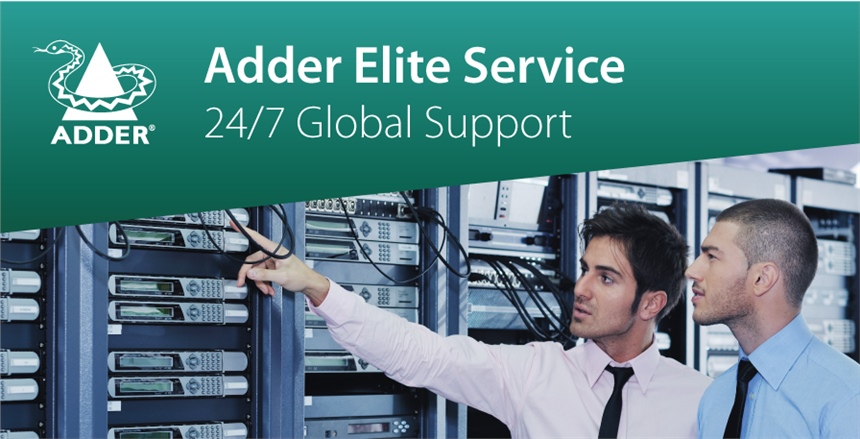 Extend the standard adder warranty for extra protection of your devices

Adder trained Onsite installation or configuration services.

Also onsite maintenance