Free! UK Delivery for all orders over £50. Shop here

Sales tel: 0845 899 5010
Raritan: DOMINION® KX USER STATIONS
---

High Performance IP KVM Switch Access
---

The Dominion® KX User Stations are standalone appliances for high performance IP access to servers connected to Dominion® KX III and KX IV switches via RDP, VNC & SSH, along with optional CommandCenter integration. The slim form factor allows them to easily sit on a desk, be mounted in a standard 19" rack, or VESA-mounted on the back of a monitor. They are deployed using standard Cat5 cabling and Ethernet/IP technology. You can simultaneously access, view, and control multiple servers, spread across one, two, or three monitors. Gain web-based remote control of User Stations connected to wall monitors in studios and control rooms.
There are two Dominion User Stations. The original Dominion KX III User Station is recommended for use with the KX III, one or two monitors, and servers up to 1080p. The new, high performance Dominion KX IV User Station is recommended for use with the Dominion KX IV-101, higher video resolutions up to 4K, larger numbers of KVM sessions, and up to three monitors.
The Dominion User Stations can replace outdated analog matrix switches, supplement inflexible broadcast systems or be deployed anywhere hassle-free IP access is needed. They are perfect for broadcast, labs, studios, control rooms, offices, and data centers. The User Station now integrates with CommandCenter to support centralized login and access for large deployments.
KX User Station Ports and Connections


High Performance User Appliance
Raritan's dominion user station has a powerful Intel-based platform, with ultra-fast connections and sub-second switching with the non-blocking DKX3-808 model allowing smooth switch capabilities. Alongside the two 1080p streaming video sessions at 30 FPS with only 50 milliseconds of latency the user station is highly effective and transmitting video signal from one system to your main computer.
Productive and Powerful User Interface
The dominion user station supports single or dual monitor's thus increasing productivity if necessary. The user station also has the favorites and hot-key switching inputs as well as the matrix server viewer and the ability to scan & monitor servers.


Flexible and Easy to Deploy
The user station is also flexible and easy to apply with dual LAN or WAN access, including access to hundreds of servers and devices, with Command Center control for centralized login and access. The access capability of this device is immense.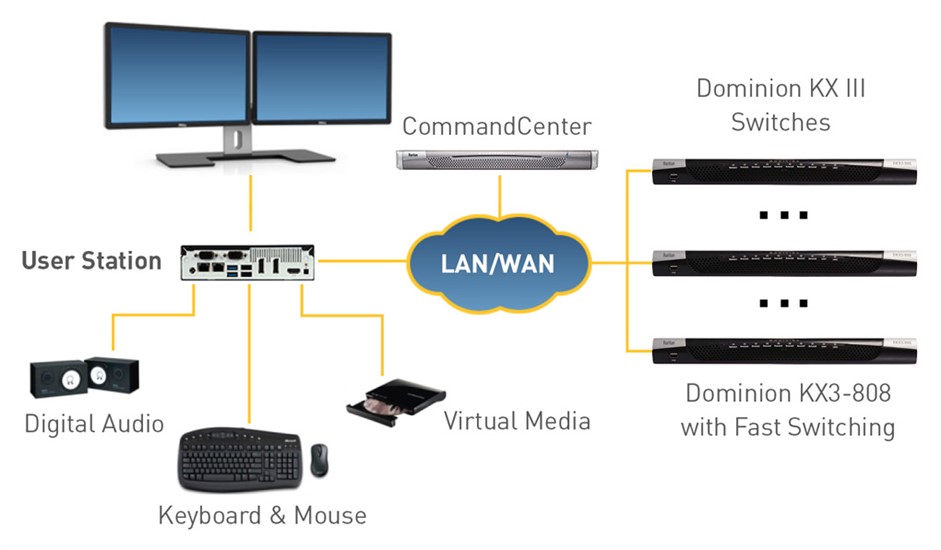 Additional Features
PC/Laptop access and desktop, rack & VESA mounts also available
Use of corporate and/or separate LAN Connections with Cat5 cabling connection
Supports range of outputs and inputs from VGA, DVI, HDMI to Display Port video
The user station has full Screen mode and virtual media application with USB audio
Device is self-contained, and a low maintenance appliance with 8 or more simultaneous IP connections
User station remote control with keyboard and mouse sharing