CS1742 - Aten - 2 Port USB Dual View VGA Desktop KVM Switch with Audio Support, Metal Housing Multiscreen with cables 'CS1742C'
ATEN - CS1742 'C' Front & Rear (Quality Assured)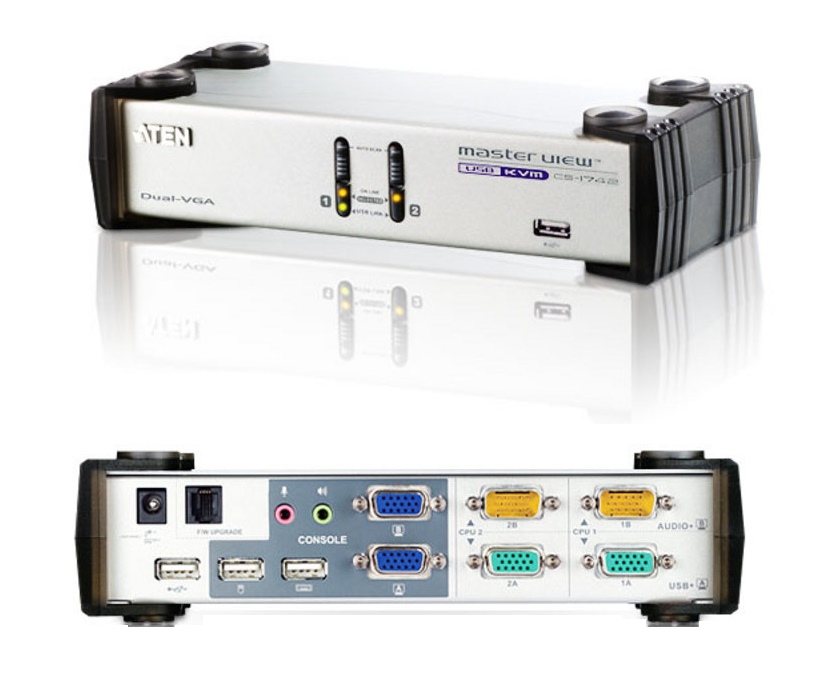 Description:
Aten's CS1742 is a 2 Port USB Dual View KVM Switch with Audio Support, made from metal housing its multi screen capabilities are particularly impressive...The Master View Dual Video KVM Switch brings Dualhead video functionality to Atens USB Switch technology. The CS1742(C) integrates functions of video signal dual output and USB KVM switches. It allows a computer with dual-screen support to pair with two VGA/SVGA/Multisync displays via a USB keyboard and mouse. Furthermore, CS1742 provides 2 USB ports, allowing each server to share any USB peripheral device that is connected to this HUB.
Features:
• Allows USB keyboard, USB mouse, speakers, microphone, x2 displays - control x2 dual displays
• Multiplatform support: compatible with all operation platforms PC I.E. Windows, Linux, Mac, Sun...
• Bi-directional switching & flexible interoperability; switch permits independent PC & peripheral...
• 2 port USB Hub built in, and independent audio function - regardless of KVM switch focus
• Keyboard and mouse emulation for error free booting
• Computer selection via front panel pushbuttons and hotkeys
• Superior video quality - up to 2048 x 1536; DDC2B
• OS Support:Windows 2000, Windows XP, Windows Vista, LINUX, Mac, Sun and FreeBSD
• With speaker and microphone support
• SUN/Mac keyboard support and emulation*
• Buzzer On/Off via hotkey
• Firmware upgradeable

*1.PC keyboard combinations emulate SUN/Mac keyboards.
*2.SUN/Mac keyboards only work with their own computers.

Specification:
Package Contents

1x 2-Port USB Dual-View KVMP™ Switch
2x Custom KVM Cable (VGA, USB; 1.8m/6ft)
2x Custom KVM Cable (VGA, Audio; 1.8m/6ft)
1x Firmware Upgrade Cable
1x User Instructions
2-Port USB Dual-View KVMP™ Switch

Computer Connections 2

Port Selection Hotkey, Pushbutton
USB Port / Audio Port Selection Hotkey

Connectors

Console Ports 2 x USB Type A Female (White)
2 x HDB-15 Female (Blue)
1 x Mini Stereo Jack Female (Green)
1 x Mini Stereo Jack Female (Pink)
KVM Ports 2 x SPHD-15 Male (Yellow)
2 x SPHD-15 Female (Green)
USB Hub 2 x USB Type A Female (White)
Firmware Upgrade 1 x RJ-11 Female (Black)
Power 1 x DC Jack (Black)
Switches
Selected 2 x Pushbutton

LEDs

USB Link 2 (Green)
On Line /Selected 2 (Orange)

Emulation

Keyboard / Mouse USB
Video 2048 x 1536; DDC2B
Scan Interval 1-99 seconds
Power Consumption DC5V, 1.25W

Environmental

Operating Temperature 0-50°C
Storage Temperature -20-60°C
Humidity 0-80% RH, Non-condensing

Physical Properties

Housing - Metal
Weight 0.82 kg ( 1.81 lb )
Dimensions (L x W x H) 21.00 x 8.80 x 5.55 cm (8.27 x 3.46 x 2.19 in.)

Note - For some of rack mount products, please note that the standard physical dimensions of WxDxH are expressed using a LxWxH format.