X100AS/R-UK ADDERLink X100 Receiver for PS2 User WithAudio&SkewComp. Version with UK power supply
Description:
X100AS/R-UK Adder X100 Receiver for PS2 User WithAudio&SkewComp. Version with UK power supply PS/2 Standard With Audio PS2 version ADDERLINK X-100 Series Receiver, Remote User Unit Short haul, fully featured, keyboard, video, mouse and optional audio extender for PS/2 and USB computers. AdderLink X-100s have been designed for use in applications where keyboard, mouse, high quality video and audio needs to be extended no more than 100m (330ft) over category 5 or higher UTP cable. The AdderLink X-100s provide industry-leading video clarity, audio quality and compatibility.
Features:
FEATURES

-Works as a User station to the CATX System Switch over Cat5 / 6 UTP Cable for the shorter distances upto 100 Mtrs.
-Video performance
Industry leading resolutions of 1600 x 1200 are achievable up to 100m (330ft), 1900 x 1440 up to 50m (165ft).
-Video compensation
The AdderLink X-100 applies signal compensation that allows for smooth and fine adjustments providing
great video quality up to 100m.
-Emulated DDC
Unless an extender actively supports DDC some wellknown high performance video cards cannot be used at high resolutions. The AdderLink X-100s fully support DDC.
-USB Emulation
When using an X-100 pair to extend a CPU with a USB keyboard and mouse interface, it is ensured that
the keyboard and mouse are continually emulated for maximum availability and essential functionality such
as country code reporting for Sun CPUs.
-Brightness control
The AdderLink X-100s offer their own brightness correction to ensure images are crisp, clear and bright.
-Audio
Optional digital stereo audio delivers high fidelity audio for speakers.
-Variety of models available
To suit the maximum possible number of applications the X-100 is available in a number of models, PS/2
and video (X-100-PS2/P) PS/2, video and audio (X-100A-PS2/P), USB and video (X-100-USB/P) and USB, video and audio (X-100A-USB/P).

X100 Remote Unit PS2 side view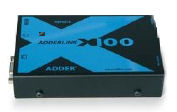 Specification:
TECHNICAL SPECIFICATIONS
Short haul, fully featured, keyboard, video, mouse and optional audio extender for PS/2 and USB computers.

Video resolutions
1600 x 1200 at distances up to 100m/330ft,
1900 x 1440 at distances up to 50m/165ft

Extension distance
Up to 100m/330ft using CATx cable (x=5,5e,6,7)

Devices supported
Supports any computer with PS/2 or USB style
keyboard and mice, flat-screen and CRT style
monitors with standard HD-15 video connectors
and optional audio through 3.5mm audio jack

O/S compatibility
All known software and operating systems including
Windows (all), DOS, Linux, Unix, BSD, Sun OS,
Solaris, Mac OS, NetWare etc.


Connectors (remote)
Video: HDD15 Keyboard Mouse: MiniDin6. Optional
audio: 3.5mm jack CATx: 1 x RJ45 connector.
Power: 2.5mm DC jack


Physical (remote)
All metal case, 123mm x 74mm x 26 mm

Power supply
100 - 240VAC 50/60Hz

Operating temperature
0ºC to 40º / 32ºF to 104ºF

Approvals
CE, FCC