7507030 15U Rittal FlatBox 600 x 400 Deep- Flat Packed Self Assembly Wall Box . ( Rittal Wall Cabinet )

Rittal FlatBox general range picture for style guide only actual sizing may be different.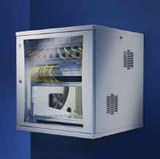 Description:
Rittals Flat Box -Flat Packed Self Assembly Wall Box Cabinet. The innovative concept behind the FlatBox unites optimised storage and shipping costs with cleverly designed, toolless, fast one-person assembly. As you would expect, Rittal prides itself on details. Compatible with the extensive range of existing system accessories, and can be used as a wall-mounted or floor-standing enclosure. Unrestricted accessibility during installation of the network components. The width and depth dimension of 700 mm provides plenty of space for use as a patch distributor, and small networks with active technology are also ideal for climate control via the fan panels (maximum of 8).
Features:
- Flat Packed Easy Shipping
- Easy Assembly suitable for 1 x Man assemby
- Suitable for Wall or Floor mounting
- Vented fan suitable panels
Specification:
15U Rittal FlatBox 600 x 400 Deep