KVT-2U-K Rose Vista Mini KVM switch 2-port PS2, with 1.5Mtr ZX PS2 Cables Pack ( Screen resolution of upto 2400 x 2000 ) KVT-2K / KVT-2UN-K
Pictured model is 2 Port Mini Vista U-series KVT-2U-KA 2 Port Version with Audio capability.
Supplied product is of same style as picture but does not have the audio connections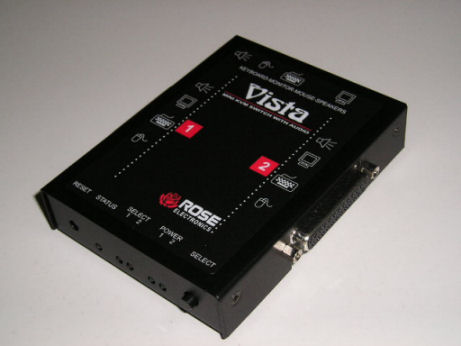 Description:
Rose 2 Port Mini Vista U-Series with Cables the Rose KVT-2U-K SPECIAL OFFER This Rose 2 Port KVM Switch is part of the Vista family is the KVM switch of choice for small or home offices wanting to use a single keyboard, monitor, and mouse to access two, four, or eight computers. Designed for plug-and-play operation, Vista switches reduce equipment clutter and minimize space loss. ( Non Audio Version) Vista switches are available in three models: The smallest 2-port switch, the Vista Mini, has high resolution video (350 MHz). Screen resolution of up to 2400 x 2000. The 2 or 4-port (1U) Vista M-Series switch is rack mountable and supports both PC and Apple computers. The 4 or 8-port (1U) Vista L-Series switch, is also rack mountable and offers on-screen-display (OSD) for larger applications. The Vista KVM switch family supports all PC operating systems. PC Vista models are available with either DB25 universal connectors or PC connectors (VGA, Mini-DIN6, and Mini-DIN6). These Vista models support VGA video beyond 2400 x 2000 and PS/2, PS/2 wheel, and serial mice.
Features:
Low cost, steel chassis
High resolution - up to 350 MHz ( Screen resolution of up to 2400 x 2000)
Supports keyboard mode 3 - required by many Unix workstations
Supports PS/2, PS/2 wheel, and serial mice
Connectors available in two styles
DB25 connectors, which use Rose UltraCable
PC connectors, which use separate keyboard, monitor, and mouse cables for computers
Select computer from front panel or from easy to use commands from keyboard
Front panel LEDs show computer select, power, and activity
Computer powered, no external power required
Full emulation of keyboard and mouse
Scan mode sequences through computers at adjustable rate
Non-volatile memory stores
configuration settings
Desk top style.
Made in USA

Rose Mini Vista Kit - typical setup

PC, Monitor, Keyboard & Mouse not supplied.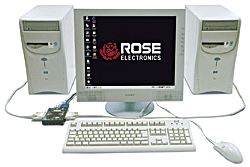 Specification:
1 x PS/2 User - 2 X PS/2 D25 Ports U Series with 2 x 1.5 Mtr Rose ZX Cables. without Audio

Input ports PS2 HD15 Socket & 2 x 6MCC Sockets

Computer connection via supplied PS2 type Ultra cables with D25 Male - HD15 Male & 2 x 6MCC Male.