Rose KVM-4PCA Vista M-series KVM switch 4-port, PC connectors
Description:
Special offer on current UK stock. Vista Single user KVM switch family M - Chassis Low cost 350 Mhz bandwidth( Screen resolution of up to 2400 x 2000) Optional OSD, Apple, and audio support Vista connector style Vista models are available with either DB25 connectors or PC connectors for he computers. For the controlling keyboard, monitor, and mouse, all models have a separate connector for each cable so you can plug the device cables directly into the Vista. Units with DB25 connectors are the easiest to manage because there is a single connection for each computer to the Vista. The cabling utilizes the Rose UltraCable all-in-one system, which streamlines cable management. UltraCable will allow you to connect computers with USB keyboard and mouse. Units with PC connectors have three connections for each computer to the Vista. The VGA video uses a HD15 connector and the PS/2 keyboard and mouse each use a MiniDin 6 connector. Vista M-Series These models work well either at the desktop or in server racks. They can be rack mounted, are 1U high, and are available in 2-port or 4-port models. They have high resolution video nd are available in PC and multi-platform versions. The multi-platform version supports the Apple ADB interface and is available in DB25 only. Each port is programmable as PC or Apple. Keyboard and Mouse All Vista models support full emulation of keyboard and mouse. It works with major operating systems such as Windows, Linux, and UNIX running on workstations such as SGI, IBM RS/6000, HP 9000, Dec Alpha, and others. All models support PS/2, PS/2 wheel, or serial mice. The T-series and L-series do not support a physical serial mouse, but the M-series does. When using the DB25 models with USB cables, you can use PC-USB, Apple-USB, or Sun-USB.
Features:
Low cost and easy to use.
High resolution - up to 350 Mhz( Screen resolution of up to 2400 x 2000)
Supports keyboard mode 3 - required by many Unix workstations
Supports regular PS/2, PS/2 wheel, and serial mice
Connectors available in two different styles
DB25 connectors, which use Rose UltraCable
Optional OSD on L-series units
Multi-platform version supports Apple
Mini version supports audio
Select computer from front panel or from easy to use commands from keyboard
Front panel LEDs show computer select, power, and activity
Computer powered, no external power required
Full emulation of keyboard and mouse
Scan mode sequences through computers at adjustable rate
Non-volatile memory stores configuration settings
Heavy-duty steel, fully shielded chassis


Vista Range, KVT,KVM & KVL chassis versions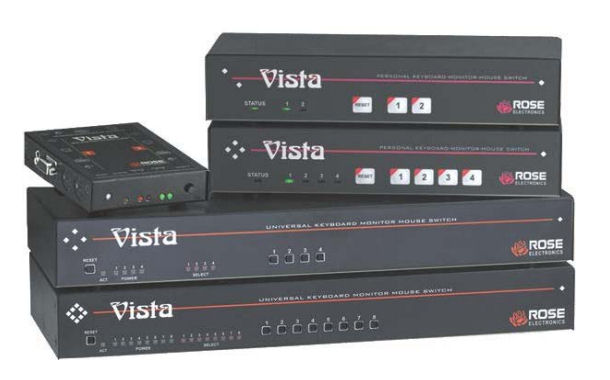 Specification:
Rose KVM-4PCA Vista M-series KVM switch 4-port, PC connectors

Video All Vista models have very high resolution capability and
support VGA video beyond 1600 x 1280 non-interlaced. Keyboard,
mouse, and video signals can be driven up to 1000 feet using our
CrystalView extenders.

KVL-4PCA 4 HD15-MiniDin6-Minidin6


M-Series: 8.8" W x 3.4" D x 1.75" H / 2 lbs (1U)
22.4 W x 8.6 D x 4.4 H (cm) / .9 kg

Input Power Supplied by computers; optional power supply
available
Video Resolution 1920 x 1440
Connectors Video: HD 15 Female VGA Video
Keyboard: MiniDin-6F
Mouse: MiniDin-6F
CPU PC models: HD15F/MiniDin-6F/MiniDin-6F
DB25 models: DB25 Female
Rack mount 19", 23", or 24" (L-Series and M- Series)
Chassis Fully shielded, black painted steel with polyester
graphic overlay panel
Controls Reset Switch
Computer Select Switch: 1-8 (varies by model)
Indicators Status LED, shows keyboard-mouse activity
Computer select LEDs 1-8 (varies by model)
Computer power LEDs 1-8 (varies by model)
Environmental 0°- 55°C, 0%-80% non-condensing relative
humidity
Approvals CE

1yr warranty