0VS22015 Minicom ( AVDS-LS ) CAT5 Audio Video Display Line Splitter 8–ports Broadcaster ( ComQi /Minicom/ Kramer )
AVDS Line Splitter ( FRONT & REAR VIEW SHOWING PORTS )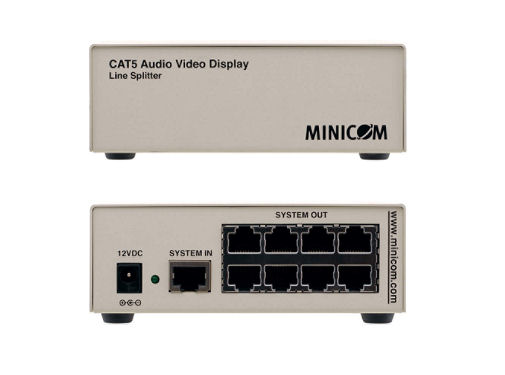 Description:
SPECIAL OFFER PRICE 8 Port RJ45 Line Splitter AVDS-LS - ( Part of the AVDS System ) The CAT5 Audio Video Display System (AVDS) broadcasts high-resolution computer video and audio over CAT5 cable to multiple display stations in real time. Broadcast any video content you want directly to the receivers. In addition, the system's standard CAT5 cabling lets you place the remote display stations up to 110m/360ft away from the source. The Audio Video Display System is a distribution system for computer graphics video up to 1080p and mono audio signals. The system, including a broadcaster, splitter and receivers, can distribute input signals over CAT 5 cable to hundreds of displays.
Features:
- Monitor & audio extender Transmitter
- 8 RJ45 Cat5/6 port cabling Transmitter Unit
- up to 110 m range to receivers ( not supplied )
- for CAT5 Audio Video Display System Broadcaster

System Range — 110m (360ft).
HDTV Compatible.
Max. Resolution — 1080p.
Local PC Input — On remote for classroom control applications.
Out–of–band System — Frees network from heavy image transfer.
Single CATx Cable.
No Player or Computer Needed at Display End.
Optional Remote On/Off Screen Control.
AVDS typical SETUP - other compatible parts not included.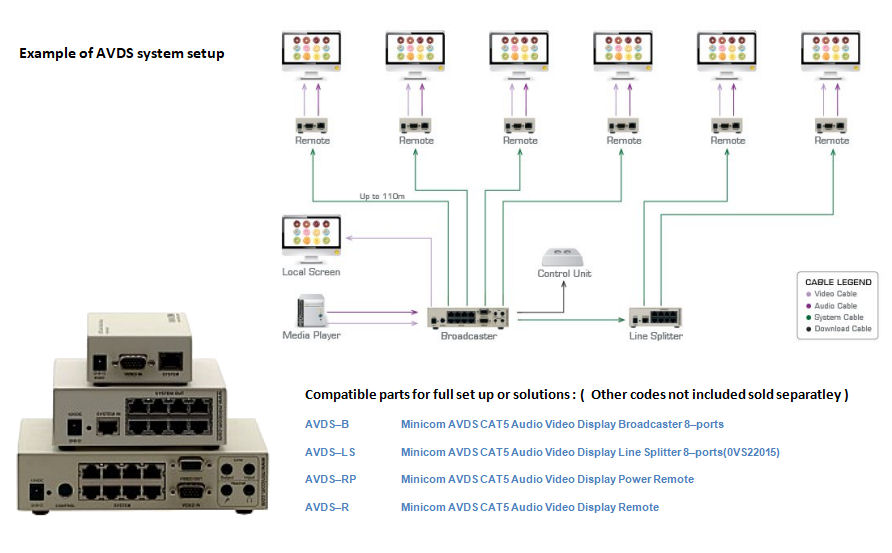 Specification:
1 x RJ45 Input
8 x RJ45 Output

12v DC PSU included FIG8 ( C7 )Input requiring standard Cable UK Plug to C7

UNIT - 8–port broadcaster/transmitter,
Line splitter,

Remote power or remote long receivers for each display device

MAX. RESOLUTION -
HDTV 1080p, 1920x1080 @60Hz (depending on cable length)

SYSTEM CABLE - CAT 5/5e/6/7 shielded FTP/UTP
2x4x24AWG solid wire cable,
Power remote can work with UTP cable

MAX. RANGE - 110m (360ft) @720p

AUDIO - Mono

OPERATING TEMPERATURE -
5° to 40°C (41° to 104°F)

STORAGE TEMPERATURE -
–40° to 70°C (–40° to 158°F)

PRODUCT DIMENSION - 17.40cm x 9.50cm x 4.20cm (6.85" x 3.74" x 1.65" ) W, D, H

PRODUCT WEIGHT - 0.8kg (1.7lbs) approx

SHIPPING DIMENSION - 25.00cm x 25.50cm x 5.50cm (9.84" x 10.04" x 2.17" ) W, D, H

SHIPPING WEIGHT - 1.6kg (3.6lbs) approx