XDIP-POE Adder Single Link HDMI / DVI & USB Extender over IP with just POE, no power supply included - IP AV
Description:
ADDER XDIP This is a product where the same unit is used as either a transmitter or receiver. Click settings ( two units are required as a minimum or a multisystem can be set up ) ADDERLink XDIP is a high resolution, ultra low latency, digital KVM (Keyboard, Video, Mouse) extender or matrix. Easy operation across a direct 100m CatX connection as well as your standard 1GbE local network gives you the choice of point to point or easy switching. Using a standard IP network they can transmit up to 1920 x 1200 video stream, analog audio, USB2.0 and 2 channel audio over a single CATx cable. Each node also has a feed through port allowing a local user station the ability to switch between a remote computer and a local computer. The transmitting node allows USB and video to monitor the source computer. • 100m extension distance over CATx cable • Feed through ports at both local and remote • Power from POE or external power source • USB2.0 (low and full speed) for keyboard, mouse, tablet and touch screen • Bi-directional analog audio (line in/out) with headphone support • Plug and play Product Codes XDIP-POE XDIP-RED
Features:
- Powerful KVM extender with KVM matrix functionality
- Configurable as a point to point extender or small matrix solution
- A single unit can be programmed as transmitter or receiver
- Remote control via RESTful API or HTTPS web browser
- Support for Power over Ethernet (PoE)
- Local USB and video feed through ports


Configurable units
The XDIP user and computer units are the same and assigned a role at set up. They can transmit/receive up to 1920x1200 video, stereo analog audio and USB2.0 over a single CATx network cable.

High quality video, real time control
XDIP implements low latency, high quality, 60Hz video compression to deliver an "at the computer" user experience over a standard Gigabit LAN.

CATx cable for connection
Video, USB2.0 and audio all pass along a single minimum spec of CAT5e cable allowing use of existing infrastructure cables in the building and an immediate ROI. Distance is linked to the IP standard of 100m with a 40% overhead for safety. Longer distances are achieved by routing through your IP infrastructure.


Feed through and local computer support
Video and USB feed through ports are available. These enable a local console at the source computer. A local computer is also supported at the user station.

Now with the new June 2020 firmware a unit set up as a Reciever can have a menu of 16 x computer source options and alternatively a unit set up as a Transmitter can broadcast and send out to 256 x Recievers on the network.

One solution, many uses
XDIP nodes can be configured as a simple extender, distributed KVM switch or KVM sharer or any combination up to 16 computers and 256 users (each user does not necessarily need to be connected to the same 16 computers)


EDID management
The extender has an intelligent EDID management to allow the true characteristics of the monitor to be passed back to the computer or alternatively, a fixed EDID can be specified.

Plug and Play
The AdderLink XDIP extender is delivered in a zero config state so you can plug the units in and start working with them straight away. There's no need for drivers or software to be installed. A simple wizard takes you through setup at the start of life of the product.

CD-quality analog audio
The unit delivers CD-quality stereo audio (16-bit sampling at 48kHz) is available to transfer audio between local and remote. Headphones are also supported (up to 32 Ohms impedance).
XDIP extender example of possible IP multi unit setup.
Network switch not included.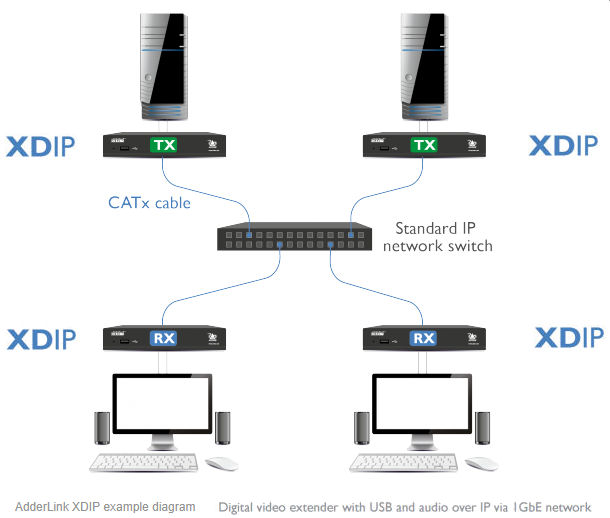 Specification:
Hardware compatibility
All computers with HDMI, USB and audio

HDMI Interface
The system supports resolutions to amaximum of 1920 x 1200 @ 60Hz

USB 2.0
Supports USB2.0 HID devices (Keyboard, Mouse and Touch)

Software compatibility
All known operating systems

Computer connections
HDMI, 2 x Audio 3.5mm, USB type B, 8p8c Ethernet port

Feed through connections
HDMI, 3 x USB type A

Power connections
POE 802.3af via Ethernet port or 3 Pin Locking DC jack (Optional: 100-240VAC 50/60Hz, 0.7A, input to power adapter, 12VDC 18W output from power adapter)

Physical design
Compact case, robust metal construction. 169mm/6.65" (w), 31mm/1.22" (h), 120mm/4.8" (d), 0.6kg/1.3lbs.

Operating temperature
0 to 40ºC / 32 to 104ºF

Approvals
CE, FCC



Ordering Information:
XDIP-POE: Single node POE powered
XDIP-RED: Single node with PSU cable for connection to RED-PSU
XDIP-IEC: Single node including external PSU
XDIP/P-XX: Two nodes in a single box for point to point extenders

XX = Mains Lead Country Code:

UK = United Kingdom
US = United States
EURO = Europe
JP = Japan
CN = China
AUS = Australia