KVL-8UA/OV-K Rose Vista U-series KVM switch 8-port, OSD & 8 x PS2 Cables, Plus Rackmount Kit
8 Port KVM-8U/OV-K Series Bottom

Other Switches in Vista Range.
2 Port Mini U KVT Series Vista Top Left.
2 Port KVM-2U-K Vista Top Right
4 Port KVM-4U-K (M) Vista 2nd from Top Right
4 Port KVM-4U/OV-K (B) Vista 2nd from Bottom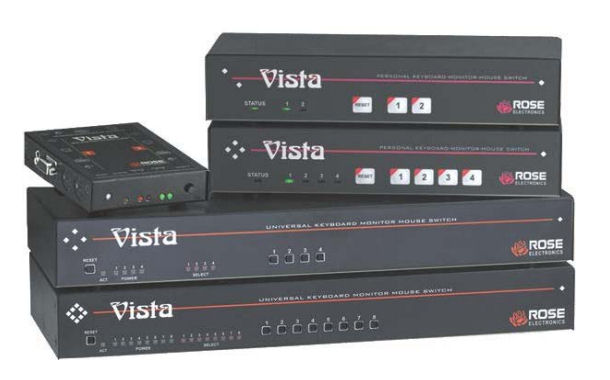 Description:
Special offer on current UK stock only Rose KVL-8UA/OV-K Vista U-series KVM switch 8-port, OSD & ZX Cables, Plus Rackmount. Rose 8 Port KVM Switch from the Vista Single user KVM switch family
Low cost
350 Mhz bandwidth
Optional OSD, Apple, and audio support
The Vista family is the KVM switch of choice for small office or home use. Designed for plug-and-play operation, Vista switches simplifies your job by helping you organize multiple computer applications. Because Vista lets you use a single keyboard, monitor and mouse to access several computers, you can significantly reduce your equipment overhead, end equipment clutter, and gain space. Vista switches allow you to access either two, four, or eight computers with one keyboard, monitor, and mouse and are available in two styles: either with DB25 universal connectors or PC connectors (VGA, Mini-DIN6, and Mini-DIN6). All Vista models support PS/2, PS/2 wheel and serial mice. Certain models support both PC and Apple computers with built-in conversion from PC to Apple. The Vista-mini series supports audio. The Vista L-series has an on-screen display option. Call us today for more information on the best low cost KVM switches available.
Features:
Low cost and easy to use.
High resolution - up to 350 Mhz
Supports keyboard mode 3 - required by many Unix workstations
Supports regular PS/2, PS/2 wheel, and serial mice
Connectors available in two different styles
DB25 connectors, which use Rose UltraCable
Optional OSD on L-series units
Multi-platform version supports Apple
Mini version supports audio
Select computer from front panel or from easy to use commands from keyboard
Front panel LEDs show computer select, power, and activity
Computer powered, no external power required
Full emulation of keyboard and mouse
Scan mode sequences through computers at adjustable rate
Non-volatile memory stores configuration settings
Heavy-duty steel, fully shielded chassis


8 Port KVM-8U/OV-K with cables and rack kit.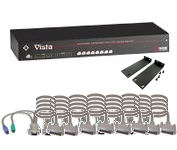 Specification:
1 User to 8 computer PC Switch with ON SCREEN DISPLAY FEATURE.
PS/2 Cables and Rack Kit.

Ports:
1 x PS/2 User Port: HD15, 6MCC,6MCC
8 x D25 Female Ports to computers.
Cables supplied from switch to computers:
4 x 1.5 Mtr D25 - PS/2
4 x 3 Mtr D25 - PS/2
19" Rack Mount Kit also supplied.

Can be used with USB platform computers when used with required
D25 - USB Computer cables.
Part No. CXUSBC-005/U20
various lengths available