VP2120 - Aten - Seamless Presentation Matrix with Quad View Multistreaming, 1080p @60Hz (Presentation Switch) *NEW*
VP2120 - Seamless Presentation Switch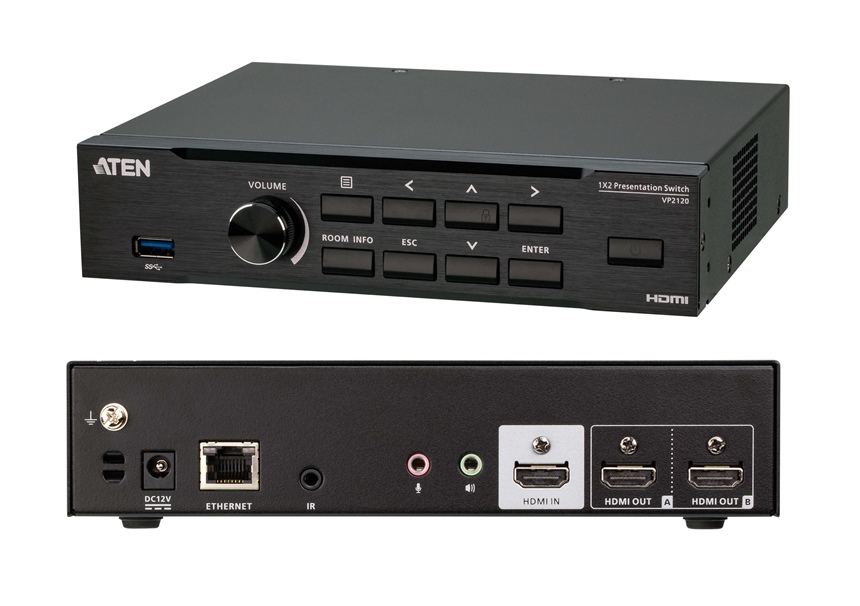 Description:
The VP2120 is a Seamless Presentation Switch that integrates video matrix switch, quad-view multistreaming, audio DSP, and idea-sharing platform into one compact device. With the seamless switching between streamed-in sources, the online idea exchanging features, and the network capability that enables the wireless connection for mobile devices, the VP2120 and ATEN Video Presentation Control App empower wireless BYOD collaboration anytime when a short catch-up, quick meeting, instant brainstorm, stand-up, or ad hoc call is needed. Designed for flexible and spontaneous team collaboration, the VP2120 along with ATEN Video Presentation Control App facilitates BYOD meetings with the straightforward user interface that give users quick and easy access to any on-the-fly meetings. Joining an online meeting is easy and secure. Participants can just bring their own devices and use the private QR code or room code, or auto scan the local network to get available room list to log in, even when they're not physically in the same area. The VP2120 allows bi-directional content streaming of up to 4 participants simultaneously. With the built-in multi-view mode, the streamed sources can be displayed on the same screen, which the layout dynamically adjusts to suit the number of sources available. Participants can also focus a streaming input to display full screen or view the go-live screen together for synchronization. Moreover, the built-in audio DSP allows remote participants to broadcast to meeting members using their own devices, with the sound mixed with the program audio. The VP2120 along with ATEN Video Presentation Control App also features more advanced online idea-sharing functions: Whiteboard allows real-time annotation for idea exchange and synchronization; Chat Room feature enhances interaction between participants; File Sharing enables further data sharing and follow-up; while Video Capture records the meeting process for future tracking. This Collaborative presentation solution facilitates any forms of small-group discussion that gives an immediate boost to team work.
Features:
• Brilliant AV Routing

o One HDMI input and dual HDMI outputs plus 4 bi-directional streaming with matrix display support
o Seamless Switching between streamed-in sources for fast idea exchange
o Audio DSP – mix Mic input, HDMI input, and the last streaming input for HDMI or audio output
o HDMI audio de-embedding support

• Launch a Quick Meeting Anytime

o Launches wireless BYOD collaboration via Web GUI and Mobile App in a swift and agile way
o Offers quick and easy access to log in a quick meeting via multiple methods:
. Start auto scan and select a room number from the list
. Scan the QR code shown on the VP2120 OSD
. Load a pre-saved QR code
. Input the IP address and Room code shown on the OSD

• Seamless BYOD Collaboration

o Multiple control method via front-panel pushbuttons, web GUI, OSD, IR remote, and mobile App
o Streaming in – view up to 4 streamed-in contents simultaneously for real-time synchronization
o Streaming out – allows log-in participants to view the Go-live contents on personal devices
o Multi-view with Auto layout – dynamically adjusts the layout to suit the number of streamed-in sources available
o Whiteboard allows real-time annotation for idea exchange and synchronization
o Chat room feature enhances text interaction and information sharing
o Video capture records the meeting process for future tracking
o File sharing enables further data sharing and follow-up

• High-definition Video with Optimum Output

o Superior video quality up to 1920 x 1080 with single streaming input and 854 x 480 with four streaming inputs
o EDID Expert™ – automatically selects the optimum EDID settings for smooth power-up, high-quality display, and the best video resolution across connected devices
o HDMI (1080p); CEC (Consumer Electronics Control); HDCP 1.4 compliant

Specification:
Video Input
Interfaces 1 x HDMI Type A female (Black)

Video Output
Interfaces 2 x HDMI Type A female (Black)
Max. Distance HDMI: Up to 15m

Video

Max. Resolution HDMI: Up to 1080p@60Hz
Compliance HDMI: HDCP 1.4 Compatible; Consumer Electronics Control (CEC)

Audio

Input Microphone: 1 x mini stereo Jack female (Pink)
Output Stereo Audio: 1 x mini stereo Jack female (Green)
Connectors
Console Ports USB 3.0: 1 x USB Type A Female (Blue)
Power 1 x DC Jack (Black)
Control
IR 1 x Mini Stereo Jack Female (Black)
Ethernet 1 x RJ-45 Female (Silver)

Switches

Power 1 x Pushbutton (LED: Green)
Selection Room Info: 1 x Pushbutton
Menu: 1 x Pushbutton
Left: 1 x Pushbutton
Right: 1 x Pushbutton
Down: 1 x Pushbutton
Up/Unlock: 1 x Pushbutton
Volume: 1 x Knob
Enter: 1 x Pushbutton
ESC: 1 x Pushbutton
EDID Settings EDID Mode: ATEN Default / Display A
Power Consumption DC12V:14.46W:87BTU

Environmental

Operating Temperature 0-40°C
Storage Temperature -20 - 60°C
Humidity 0 - 80% RH, Non-Condensing

Physical Properties

Housing Metal
Weight 1.14 kg ( 2.51 lb )
Dimensions (L x W x H) 20.00 x 16.92 x 4.40 cm
(7.87 x 6.66 x 1.73 in.)
Carton Lot 3 pc
Note - For some of rack mount products, please note that the standard physical dimensions of WxDxH are expressed using a LxWxH format.