Adder VKVM-1M tricoax PS2 KVM cable, male-to-male, 1metre
Product images may be generic and may not reflect actual item.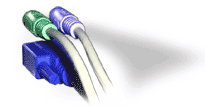 Description:
Adder Technology Cable for PS2 Computer to Standard PS/2 Port Switch. Monitor Keyboard & Mouse in one cable. Adder Technology has a comprehensive range of high quality cables for connecting their KVM products to your equipment. All Adder Technology KVM switches for PC platform support both PS/2 connections and also the older style AT keyboard/RS232 mouse. They have developed a 'combo' cable which combines the VGA video cable with the PS/2 cable for keyboard and mouse (see photo). This cable style is very convenient because only a single cable is required for each PC connected and also the connectors are colour coded to the latest specifications to ensure correct identification. Users with the older style PC AT keyboard/RS232 mouse connections can order the cable complete with the adaptors required. Standard lengths and part codes are listed below,
Features:
Combo Keyboard (PS/2), Video (VGA), Mouse (PS/2) cable
Moulded High quality Low loss cable
Moulded colour coded Hoods for easy fitting to correct PC Ports.
Specification:
HD15, 6MCC & 6MCC Plugs - HD15, 6MCC & 6MCC Plugs.
Tri Coax High Grade low loss Cable.