Rose CVK-SR ClassView multiscreen classroom KVM switch student's unit, RS232 mouse
Product images may be generic and may not reflect actual item.



Description:
CLASSROOM KVM SWITCH Instructor can access the students' computers Keyboard controlled, easy to use Bus connection simplifies installation THE CLASSVIEW ADVANTAGE If you are planning or enhancing a classroom, training, or educational center ó ClassView is a product you need to know about. Designed specifically for classroom and training applications, the ClassView allows teachers to interact with their students by seeing and controlling their computers from the teacher's desk. Teachers can also show their computer screen to the students. You can provide one-on-one interaction, allow groups to work among themselves, transfer control to others, freeze screens, lock out keyboard and mouse activity, and scan through student's computers. The applications are as versatile as your needs. All of the connections are controlled through the teacher's keyboard. The ClassView is used in a variety of educational and corporate settings, such as elementary schools, high schools, colleges and universities, corporate training centers, and conference rooms. Easy to install, easy to use ó ClassView provides the modern way to teach in today's electronics classroom. Call us today to learn more how ClassView can improve your training
Features:
Instructor controls connections through simple keyboard commands using the keyboard template provided
Instructor can access any student's computer in three modes (view/share/control):

View- see studentís station without disturbing their keyboard or mouse
Share - see studentís station with interactive keyboard and mouse sharing
Control - see studentís station with complete control over their keyboard and mouse activity
Instructor can enable and disable students computer in two modes (disable/freeze):

Disable - Studentís screen is blanked, keyboard and mouse are locked out
Freeze - Studentís screen remains on, but all keyboard and mouse activity is locked out
Show - lets instructors show their screen to any or all students
Transfer - allows a student to view or control another students computer
Scan - allows instructor to sequentially view each computer
Easy installation and expansion
Supplied with starter set required cables
Classview Rear & Setup example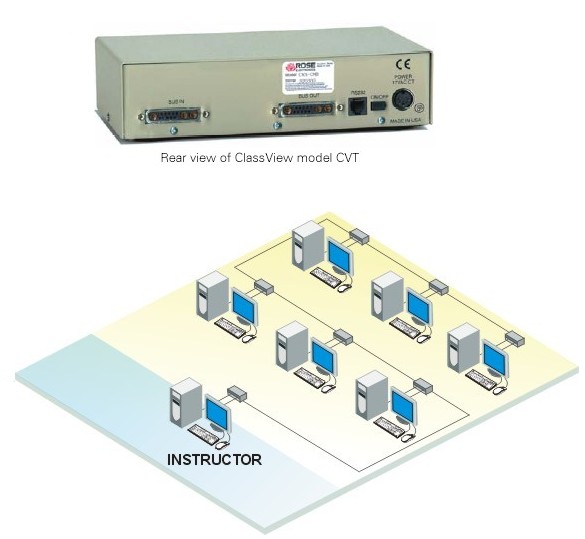 Specification:
Dimensions 8.85" W x 4.90" D x 2.10" H
22.5 x 12.5 x 5.3 cm
Weight 3 lb. (1.8kg)
AC power 117 VAC Power adapter supplied,
230 VAC optional
Input power 17 VAC CT, 700ma
Connectors Power: Din5
CPU/KVM: DB25 Female
Bus in/out: 13W3 Female
RS232: RJ45 6 conductor
Video bandwidth 150MHz
Rack mount option 19", 23" or 24"
Chassis Electro-galvanised steel, painted
Controls Power On/Off Switch, 8-Position Dip Switch
Indicators 1 Power LED (green), Status LED (yellow), Send LED (yellow)
Environmental 0-55 degrees C, 0-80% non-condensing rel. humidity



SUPPLIED STARTER KIT CABLES INCLUDE:
1 X Adaptor Cable for video keyboard and mouse connection
1 X Classview to PC attachment Cable
1 X short 5 foot Bus cable ( Unit to Unit )
1 X Power adaptor supply.