Adder ALSTX/ALSRX-IEC-UK AdderLink Silver KVM extender kit, LOCAL AND REMOTE PS2 and serial RS232 users transmitter & receiver pair with (UK) IEC PSU ( KVM & Serial Extender ) Special Offer
Product images may be generic and may not reflect actual item.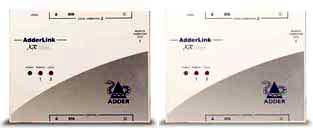 Description:
Adder ALSTX/ALSRX-IEC-UK AdderLink Silver extender kit, transmitter & receiver pair with IEC PSU (UK power supply) Special offer price on remaining stock only. This model has been superceded but still offers super capability at a super deal Local and remote PS2 & SERIAL RS232 user system. * CALL NOW for any project pricing and assistance on this product. Free World-wide technical advice. Also available with European and US power supply on request. AdderLink Silver is an easy to install KVM extender that provides a convenient method of remotely controlling a PC or KVM switch over a single CAT5 cable with the addition of direct RS232 Serial. AdderLink offers exceptional value for money and supports video resolutions of up to 1600 x 1280. Serial RS232 is also featured as standard, making it ideal for 'touch screen' applications or remote industrial applications. For installations requiring additional connectivity the AdderLink SILVER really stands out from the crowd with its Real Serial RS232 Capability support, microphone input, RS232 serial port and integrated video switch that allows a second work station to be connected. At the remote location an additional PC can also be connected, which may be your networked computer. Password access is also provided making it the perfect solution for demanding remote access applications requiring additional security. There are many applications for AdderLink and AdderLink SILVER in some harsh environments, such as manufacturing or premises that are a target for theft or unauthorized access. Some of these environments may lower the possible performance however. In both of these applications the CPU can be safely located in a secure, clean and dirt/dust free location.
Features:

Features
Only one CAT5 cable required to connect your keyboard, monitor, mouse and serial RS232 device

Easily installed in minutes with no software to install or knobs to adjust for setup

Works with PS/2, RS232, wheel mice and AT keyboards

Compatible with all major operating systems including DOS, OS/2, UNIX, MS Windows, MS NT, MS Windows 2000, NetWare and RS6000

Distances of up to 200m (650feet) supported between transmitter and receiver

High SVGA video quality at a resolution of up to 1600 x 1280

Provides a convenient and secure method of remotely locating PCs and file servers without compromising control or convenience

All metal construction - tougher than most plastic enclosures and therefore better suited for professional and industrial applications

LEDs show the status of connected devices

Optional rackmount kit available

Built-in IEC power supply for improved reliability with flat screen monitors

1 year warranty
Images may be generic and may not reflect actual item.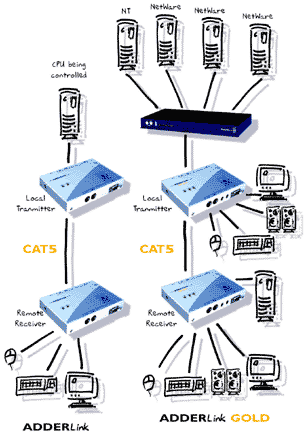 Specification:
Transmitter :
Local PS/2 User port - HD15,6MCC & 6MCC Sockets
Local PS/2 Computer Port - HD15,6MCC & 6MCC Sockets
RS232 SERIAL port
UTP ( RJ45 ) output Socket Port


Receiver:
PS/2 User port RS232 - HD15,6MCC & 6MCC Sockets
Local PS/2 Computer Port
RS232 SERIAL port
- HD15,6MCC & 6MCC Sockets
Switch ability from User Local to Remote Computer.
UTP ( RJ45 ) input Socket Port

Distance upto 200 Mtrs on UTP supported

Suppied with IEC Earthed Power supply as standard by KVM Choice.


1 year warranty