Switches: Showing
1 to 3 , from a total of 3
CS231C - Aten - Reverse 2 port USB KVM Sharer (Reverse KVM) VGA, PS/2 & USB (CS231)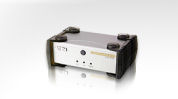 Computer Sharing Device
The CS-231 is a powerful, micro-processor controlled computer sharing device. It is a multi-user, single-tasking device
that enables two users to share the use of a single computer - each from their own consoles (monitor, keyboard, and
mouse). The CS-231 supports USB consoles and both PS/2 and USB...
MSP-PC42-XP Rose KVM-PC42M MultiStation™ PC PC SHARING SYSTEM- PC Sharing Unit, PCI card & user module Kit ( KVM-PC42M )

The New MultiStation PC MSP-PC42-XP represents the latest in multi-user PC technology at affordable prices. The MultiStation PC allows up to four users to connect to a single, centralized windows computer.
Each user is completely independent with their own desktop, colors, and operating environment.
The MultiStation PC is ideal for home environments when one computer needs to be shared...
ML-2U MultiStation 2 KVM Stations or Users to one computer ( KVM Sharer or KVM Splitter )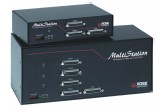 The MultiStation / 2 x Keyboard Video Mouse Users to share one Computer

Fully automatic KVM sharing on a first-come, firstserve basis
Use for point-of-sale, office collaboration,
conference room, and many others
Security features
Add multiple users

When you need to access one computer from multiple locations, MultiStation is the product for you. The MultiStation...
Switches: Showing 1 to 3 , from a total of 3