HSL-RDC440 - HighSecLabs 2 to 16 -Port Secure KVM Switch Remote Desktop Controller (HSL Remote control)
Description:
RDC440 Remote Dial Control. Having multiple computers for each user due to security policy is not only a challenge to the IT stuff it is also a challenge to the users. Even with the use of Secure KVMs, user experience and efficiency suffers. The RDC440 is a major enhancement to HSL's Secure KVM products. This product provides an easy and intuitive desktop user interface to control complex Secure KVM systems. This product enables textual browsing of the available networks / resources through color display. This product significantly improves user's situational awareness and therefore enhances security and productivity for users that operates continuously in multiple domains secure environments. This product is connected through CAT-5 or higher cable to any one of HSL's compatible Secure KVM switches, Secure KMs and Secure KVM Combiner. It enables remote control of all KVM functions including channel selection and DPP operation. The RDC440 passed extensive security evaluation through all forms of known KVM attacks and was certified to Common Criteria EAL 4+.
Features:
• Channel selection is easy and intuitive: Currently selected channel is highlighted by the colored cursor (channel 1 in this example). The arrow can be moved up or down by the user using the rotary encoder to select one of the available channels appearing in the list. The user pushes the rotary encoder knob to select that channel and the cursor moves to that line.

• DPP Control and Monitoring The RDC440 provides clear indications of the DPP (Dedicated Peripheral Port) status in the column at the right side of the display. D indicating that the computer at that channel is up and running and that the DPP cable is connected. X indicating unpowered / unconnected DPP. The cursor (green background in this figure) indicating that the DPP is currently connected to channel #1 computer.

• DPP Freeze mode The freeze mode enables the user to keep authentication session with one computer while switching the Secure KVM to another channel. Pressing the DPP mode select push-button at the RDC will cause the system to enter DPP freeze mode. This is indicated by blinking D in the RDC display. The DPP cursor will remain where the blinking D is (computer #1 in this example) while the KVM cursor will be able to switch to other lines (computer #2 in this example).

• Channel text programming The system administrator may enter the RDC setup mode to program specific text line for each channel. Programmed text line will appear in the RDC display to assist the user in identifying available and selected channels.

• Channel color customization The system administrator may enter the RDC setup mode to assign specific color for each channel. Assigned color will be used for line text and for KVM and DPP cursors. Loading configuration from microSD the RDC440 uses a special microSD card to allow system administrators to store current configuration and then load it into other systems.

• System administrator may select the required configuration from list of all available configuration files on the microSD media. This deployment method saves time and prevents errors when multiple user systems are being deployed.


'Example view showing how the RDC440 is attached to a typical HSL 4 port switch'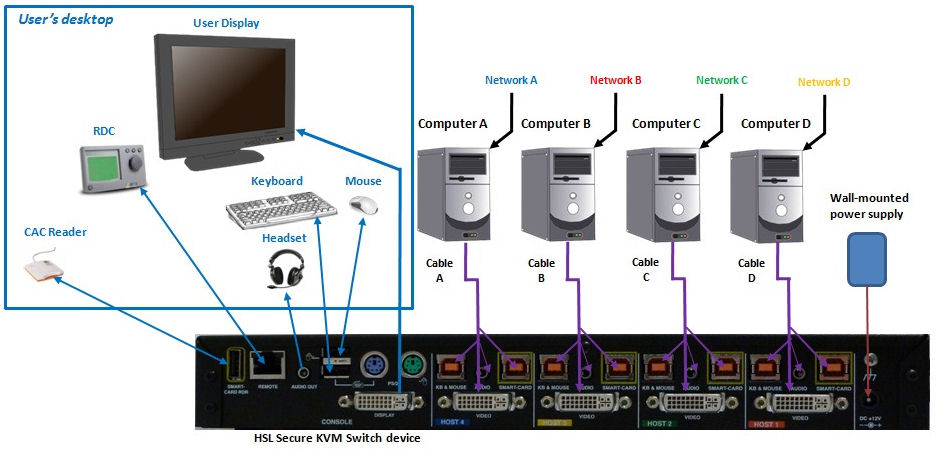 Specification:
Number of channels supported: up to 16

Number of users supported: 1

User Interfaces

- 3.2" Color TFT display
- One rotary encoder with push action
- DPP mode push-button
- Languages supported: English, German, French, Russian, and Spanish.

Electrical Interfaces


- RJ-45 jack for HSL's RDC bus. This interface uses standard CAT-5 or higher LAN cable.

- Mini-USB female connector for administrator keyboard connection (adapter cable must be ordered separately).

- microSD card slot to unlock advanced settings, to save and to load configurations.

Display Specifications

- Size – 3.2" diagonal. Landscape orientation.

- Resolution - 240 (RGB) x 400.

- Display Color Depth – 65K.

- Display technology - a-Si with white LEDs for backlight.

- Ambient Light Sensor to adjust display backlight automatically.

Security Functions

- Improved User Situational Awareness through clear indications of selected channel number as well as programmable text and color.

- Firmware resides on ROM.

- Battery powered anti-tampering system to disable product in case of mechanical intrusion.

- Special holographic Temper Evident Label.

Power

- 5V DC, 1A (maximum) from connected Secure KVM unit.

- Power consumption 12W maximum, 4W nominal.

Environmental

- Temperature range: Operating - 0ºC to 40ºC (32ºF to 104ºF); Storage - -20ºC to 60ºC (-4ºF to 140ºF)

- Humidity: Operating - 20 to 80% non condensing; Storage – 10 to 90% non condensing

- Altitude: 0 to 10,000 ft

Regulatory Compliance

- Safety: UL/cUL60950,EN60 950

- EMI/EMC: FCC Class B, CE Mark, EN55022B, VCCI

Security Accreditations

- Common Criteria EAL 4+ (currently in evaluation)

- Designed for Common Criteria EAL-5

- Complies with latest NIAP Peripheral Sharing Switch (PSS) For Human Interface Devices Ver 2.1

Physical Characteristics

- Dimensions: 140(W) x 90 (D) x 110 (H) mm / 5.51 (W) x 3.54 (D) x 4.34 (H) inch

- Device weight: 0.25 Kg. (0.55 lbs.)

Warranty, Reliability

- 2 years limited warranty. This limited warranty covers 100% of parts and workmanship on any required repairs. For details see HSL web-site: www.highseclabs.com/Warranty

* Optional extended warranty for up to 5 additional years

* Product design life-cycle 10 years per MIL-HDBK-217E.