Raritan UMT1664-RK Paragon Matrix Switching Unit (16 users, 64 computers)
16-User, 64-Channel Model UMT1664; with 19 inch rack mount brackets.
Please see the Schematic Diagram below and view the compatible products.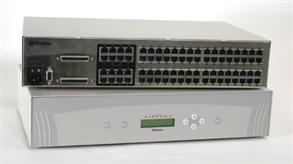 Description:
Maximum Paragon Power with Cat5 Simplicity™, Providing 10,000 Server KVM Scalability for the Enterprise The Paragon 16-user, 64-port (UMT1664) Matrix Switching Unit provides a Category 5 UTP cable-based KVM solution with scalability to enable access for up to 64 users to control up to 10,000 servers in an enterprise environment. The UMT1664 Matrix Switching Unit represents a continuation of Raritan's strategy of developing a full line of secure, flexible KVM switching and connectivity products to enable the largest enterprises to optimize access and control mission-critical devices in their data centers. This product is the first that accommodates scalability to 10,000 servers for as many as 64 users, and provides more than 500 user profiles. It features a compact 2U form factor to conserve rack space. A built-in expansion port will enable future "daisy-chaining" of Matrix Switching Units to expand the number of users while conserving device ports. Paragon Compatibility The Paragon UMT1664 supports the same Paragon User Station, CIMs and on-screen user interface as the rest of the Paragon family. It also supports all Paragon Ready™ products for management of all data center devices in a Paragon-centric environment, including Raritan's Z-Series™ and MasterConsole® MXU2 for high-density server access, ConsoleSwitch™ SCS232 for access to serial devices, and TeleReach™ for remote access over IP or dial-up modem.
Matrix Switching Unit--an intelligent, non-blocking control center that connects users to selected computers. It includes RJ45 jacks for connecting up to 2, 4, 8, or 16 User Stations and up to 16, 32, 42, or 64 Computer Interface Modules (CIMs).
User Station--connects each user console (PS/2 or Sun keyboard, mouse, and monitor) to the Matrix Switching Unit and provides user interface to computers.
Computer Interface Module (CIM)--connects each computer to the Matrix Switching Unit and provides dedicated, keep-alive keyboard/mouse emulation and fail-safe KVM access.
Features:
1U design supports 2, 4, 8 users, up to 42 servers

2U design supports 16 users, up to 64 servers

Expand to 32 users with Raritan's UKVMP2 or CIMPAC8R

Expand to 64 users with Raritan's HUBPAC8R

Expand to 10,000 servers

19 " rack mounting brackets

Locate users and computers up to 1,000 feet apart

Simple plug and play, auto-configure installation

Hot-swappable components

Platform-specific CIMs for PS/2, Sun, USB, serial devices

User Station supports both PS/2 and Sun keyboards

Supports high-resolution video--to 1600 x 1200

Powerful on-screen user interface for simple operation

Customized user profiles -- up to 512

Flexible, multi-level security for authorized server access

Three system operation modes:
Private mode--exclusive user control of selected computer
PublicView mode--users can share video of selected computer
PC-Share mode--users can share operation of selected computer

Flash firmware upgrades

User Station supports access to local PC via UKVMSPD

Add remote access over IP or modem with Raritan's TeleReach

Seamless compatibility with Paragon Ready™ products such as Raritan's MasterConsole® MXU2 and Z-Series™ Z4200U and IBMx330 with C2T technology


Paragon Matrix Switching Unit schematic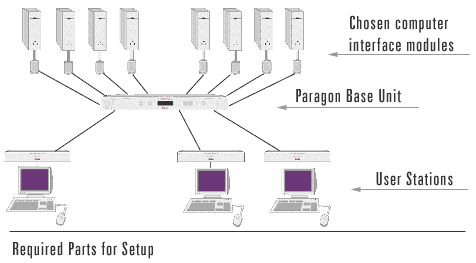 Specification:
Raritan UMT1664-RK Paragon Matrix Switching Unit (16 users, 64 computers)

16 x RJ45 Socket User Ports
64 x RJ45 Socket Computer Ports

1x IEC 320 Power INPUT Port