KVM Choice: Data Centre Solutions
Power Management, Storage, Cooling, Cables, Switches & Control

Data Centre Solutions, All Parts, Products & Services at the best prices
Call us now for Quotes: +44 (0)345 8995010
Finding the required parts (high quality and reliable) for your data centre will hopefully be a little easy, KVM Choice has created two separate product navigation websites for your chosen product areas the original KVM Choice for Data & Server Control and PDU Choice with easier navigation to Power control products. Our Data Centre Choice site acts as a general information site and introduces areas of interest and related sites for your ease, plus a little news and info. on what's new. With products available by either route we supply a huge number of parts and accessories for the modern Datacentre - we bring you all the components required for the density and scale of all systems to be racked, connected,controlled and monitored.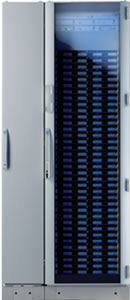 Below we have some quick links to products areas often required:
All Power supply and distribution systems can now be centrally managed to both control and give any level of monitoring, helping you achieve the best efficiency to save money as some datacentres can use as much energy as a small town.
Data wiring for all in band or out of band systems with ever higher speeds demanded, fast fit data cabling systems and intelligent patching solutions
Racking systems to hold servers with the highest density but still allowing easy access to your equipment, cold aisle or hot aisle with the correct monitoring of live ventilation and cooling levels.
Out of band level access both locally and remotely is of prime importance for administration staff to have the best control of KVM Systems for Servers or Console controllers to any Serial devices.
The highest levels of security for admin control but yet still integrating with your company's current systems.
Management systems are capable of controlling all these areas yet keep tasks as simple as possible at the top level of access and control. We work with you bringing together the additional expertise of these specialist services so that the final system can be totally capable now and yet scalable for your future needs and growth.
Specialist Data Centre Products and Services
Fully Configured Loaded Racks

- Fully loaded as you require:

- Local or Remote Access, Secure Access

- Power UPS, ATS, PDU,

- Comms: IP KVM or Serial,

- Storage, Hyper Conergence

Hyper Converged Infrastrusture (HC3)

- Storage without SAN, simple and fast, fully configured as you require with disaster recovery & data retrieval.

Contact for an advisor and discussion
Data Centre Equipment & Solutions...
For more Information, Quotes, assistance or advice call us on: 0345 899 5010